An Evaluation on R&D Incentive Policies in the European Union and Turkey
Zeynep Ezanoğlu

Süleyman Demirel Üniversitesi

Dilek Çetin
Abstract
Economic growth, which is one of the main determinants of social welfare, is among the important issues in economics. It has been a subject emphasized by different schools of economics that technology and technological change are among the main sources of economic growth and development. As a result of R&D and innovation activities, qualified labor employment and production in a country will increase, thus economic growth will occur. As stated in growth theories, technological progress and innovations are considered the driving force of growth. Various economists have argued that public support for R&D through public incentives should be provided, as market failures will prevent firms from reaching the socially optimal level of R&D. Considering the contribution of R&D and innovation practices to national economies, governments provide direct and indirect support to studies in this field. Within the scope of this study, the legal and institutional situation regarding R&D incentives in Turkey has been examined and an evaluation has been made on the current status of innovation activities and R&D incentive policies of the European Union countries.
Downloads
Download data is not yet available.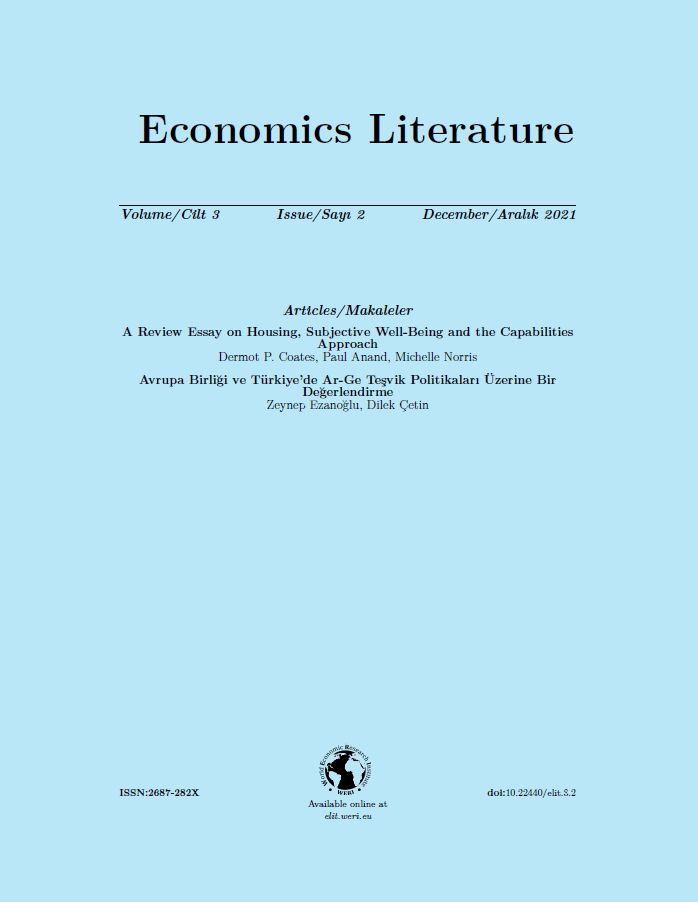 How to Cite
Ezanoğlu, Z., & Çetin, D. (2022). An Evaluation on R&D Incentive Policies in the European Union and Turkey. conomics iterature, 3(2), 34-56. https://doi.org/10.22440/elit.3.2.2
Copyright (c) 2021 Economics Literature
This work is licensed under a Creative Commons Attribution-NonCommercial 4.0 International License.
Economics Literature is an Open Access journal and provides immediate open access to its contents. The Journal aims to promote the development of global Open Access to scientific information and research. The Publisher provides copyrights of all online published papers (except where otherwise noted) for free use of readers, scientists, and institutions (such as link to the content or permission for its download, distribution, printing, copying, and reproduction in any medium, except change of contents and for commercial use), under the terms of Creative Commons Attribution-NonCommercial (CC BY-NC) License, provided the original work is cited. Written permission is required from the publisher for use of its contents for commercial purposes.