The Covid-19's Impact on Stock Prices among Different Sectors - An Event Study Based on the Istanbul Stock Exchange Market
Asena Deniz

Ms.

Fatih Kılıç
Keywords:
Covid-19, Stock price response, Event study
Abstract
The Covid-19 pandemic has deeply affected our health and social life as well as the financial markets. Although the global economic effects of the coronavirus are not yet clear, it is observed that there is a reaction in the financial markets to the developments related to the pandemic. Studies show that the pandemic has strong impact on stock markets and increases uncertainty. The purpose of this study is to examine whether the stock prices of companies traded on the Istanbul Stock Exchange Market between 02.14.2019 and 04.01.2020 are affected by the Covid-19 pandemic. In this context, the stock prices of the six major sectors traded and thought to be affected in Istanbul Stock Exchange Market during the period examined were analyzed using the "event study" method of the effects of Corona virus. In the analysis, the event window was taken as (- 15, + 15) trading days. The effects of the Corona virus in the relevant period were examined separately for each company in the selected sectors, and after calculating the abnormal returns, the effect on the average abnormal returns and cumulative abnormal returns were analyzed.  According to the research results; when the general picture of selected sectors in Covid-19 is examined, statistically significant negative average cumulative abnormal returns are obtained. According to these results, Istanbul Stock Exchange has affected by Covid-19 pandemic during the period under examination.
Downloads
Download data is not yet available.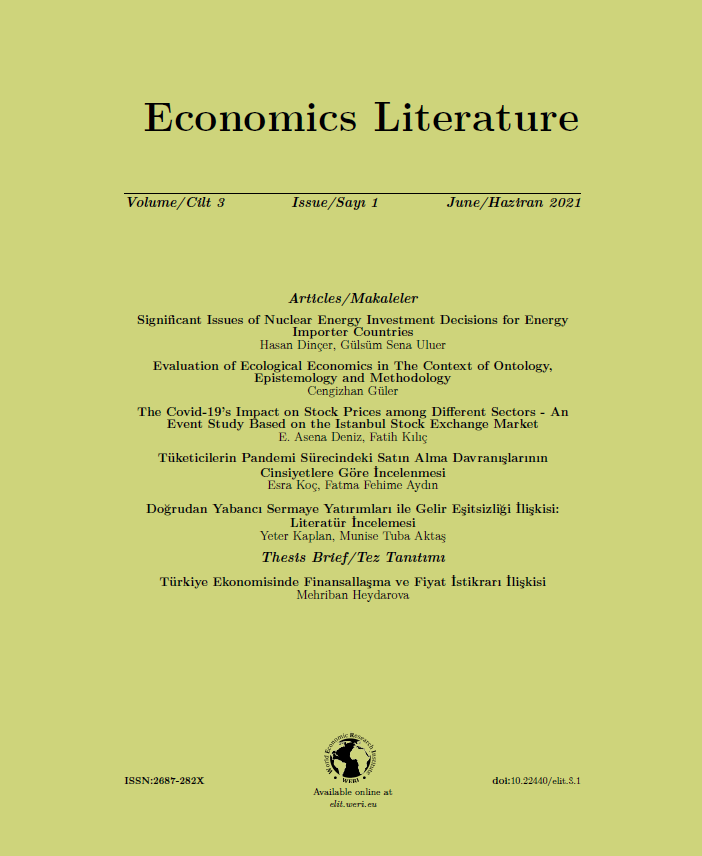 How to Cite
Deniz, A., & Kılıç, F. (2021). The Covid-19's Impact on Stock Prices among Different Sectors - An Event Study Based on the Istanbul Stock Exchange Market. Economics Literature, 3(1), 22-31. Retrieved from https://elit.weri.eu/index.php/elit/article/view/53
Copyright (c) 2021 Economics Literature
This work is licensed under a Creative Commons Attribution-NonCommercial 4.0 International License.
Economics Literature is an Open Access journal and provides immediate open access to its contents. The Journal aims to promote the development of global Open Access to scientific information and research. The Publisher provides copyrights of all online published papers (except where otherwise noted) for free use of readers, scientists, and institutions (such as link to the content or permission for its download, distribution, printing, copying, and reproduction in any medium, except change of contents and for commercial use), under the terms of Creative Commons Attribution-NonCommercial (CC BY-NC) License, provided the original work is cited. Written permission is required from the publisher for use of its contents for commercial purposes.