Dürtme Bireysel Tasarrufları Etkileyebilir mi?
Keywords:
Behavioral Economics, Nudge, Public Policy, Individual Savings
Abstract
The policies created by targeting individuals whose decisions are considered to have unlimited rationality are insufficient to solve the problems that have arisen today and in the past. However, being able to influence behavior is very important for public policy, also understanding the impact of people's behavior on the needs of the government and policy choices have recently been made aware of these effects. Individuals exhibiting irrational behavior cause behavioral economics to go a little further every day. The nudging, one of the applications of behavioral economics, aims to prevent irrational behaviors in simple and cost-effective ways and thus to guide individuals to good and right. So much so that the nudge is rapidly becoming an alternative public policy tool in many areas. With nudging, designing and implementing evidence-based, tested policies rather than traditional policy-making processes increases the chances of success of policies. From this point of view, it is only one of these areas to increase individual savings by guiding (nudging) the financial decisions of individuals. Is it really possible to increase individual savings by nudging? The aim of this study is to provide suggestions on whether the individual savings can be increased by nudging in view of how the nudging mechanism works and considering the empirical findings of nudging financial decisions.
Downloads
Download data is not yet available.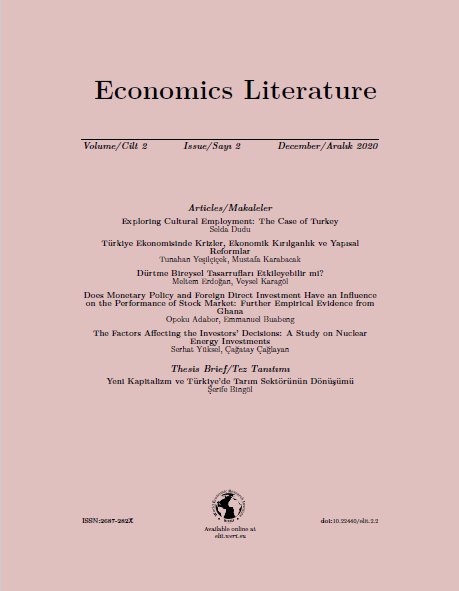 How to Cite
Erdoğan, M., & Karagöl, V. (2020). Dürtme Bireysel Tasarrufları Etkileyebilir mi?. Economics Literature, 2(2), 146-160. https://doi.org/10.22440/elit.2.2.3
Copyright (c) 2020 Economics Literature
This work is licensed under a Creative Commons Attribution-NonCommercial 4.0 International License.
Economics Literature is an Open Access journal and provides immediate open access to its contents. The Journal aims to promote the development of global Open Access to scientific information and research. The Publisher provides copyrights of all online published papers (except where otherwise noted) for free use of readers, scientists, and institutions (such as link to the content or permission for its download, distribution, printing, copying, and reproduction in any medium, except change of contents and for commercial use), under the terms of Creative Commons Attribution-NonCommercial (CC BY-NC) License, provided the original work is cited. Written permission is required from the publisher for use of its contents for commercial purposes.