Exploring Cultural Employment: The Case of Turkey
Keywords:
cultural employment, cultural industry, cultural workers, Turkey
Abstract
Culture is a core element shaping human behaviour. Cultural activities have existed from the beginning of time and gradually transformed into an industry. As a result, today, the existence of the cultural industry and cultural workers is quite clear. The purpose of this study is to outline the core concepts of cultural employment and to explore the structure of cultural employment in Turkey by using primary data obtained by an online survey conducted among Turkish cultural workers in 2016. This study contributes to the literature by examining the atypical work arrangements of cultural workers in Turkey. Our findings confirm that cultural workers in Turkey are at risk of in-work poverty, and their earnings differ according to gender, contract type, employment, and employee types. We found in this study that the middle-aged cultural workers working with permanent contracts in state subsidized intuitions earn more. This study highlights the need for systematic studies on cultural employment and the implementation of a comprehensive policy to protect the rights of cultural workers in Turkey.
Downloads
Download data is not yet available.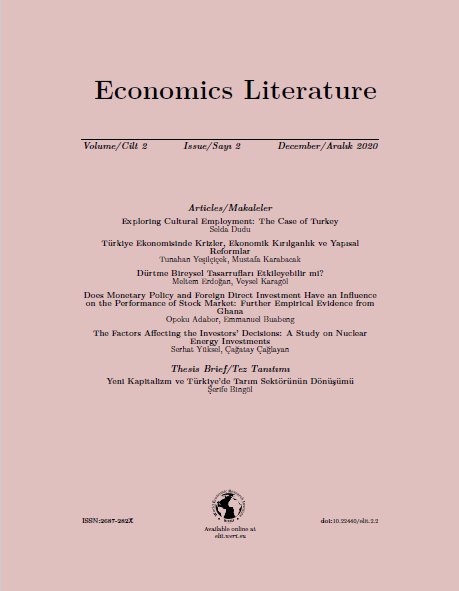 How to Cite
Dudu, S. (2020). Exploring Cultural Employment: The Case of Turkey. Economics Literature, 2(2), 104-121. https://doi.org/10.22440/elit.2.2.1
Copyright (c) 2020 Economics Literature
This work is licensed under a Creative Commons Attribution-NonCommercial 4.0 International License.
Economics Literature is an Open Access journal and provides immediate open access to its contents. The Journal aims to promote the development of global Open Access to scientific information and research. The Publisher provides copyrights of all online published papers (except where otherwise noted) for free use of readers, scientists, and institutions (such as link to the content or permission for its download, distribution, printing, copying, and reproduction in any medium, except change of contents and for commercial use), under the terms of Creative Commons Attribution-NonCommercial (CC BY-NC) License, provided the original work is cited. Written permission is required from the publisher for use of its contents for commercial purposes.