Independent Administrative Authorities in the Framework of the Changing Role of the State: A Comparative Analysis
Abstract
As of the last quarter of the twentieth century, the accumulation regime changed, and the economic policies were reshaped within the change. In this period, the new liberal policies have showed themselves in many areas, especially in the economic field, thus it has brought a change in the understanding of the state and has also revealed significant structured bodies such as independent regulatory authorities in the field of public administration. These authorities are the embodiment of this new approach. In this study, primarily the transformation process of the state has been examined in an historical frame.  The restructuring of independent regulatory authorities, played an important role in the public hierarchy during this transformation since the end of the twentieth century, has been discussed. The structure of these institutions in Turkey has also been analyzed, including comparative analysis of the selected countries and groups of countries.
Downloads
Download data is not yet available.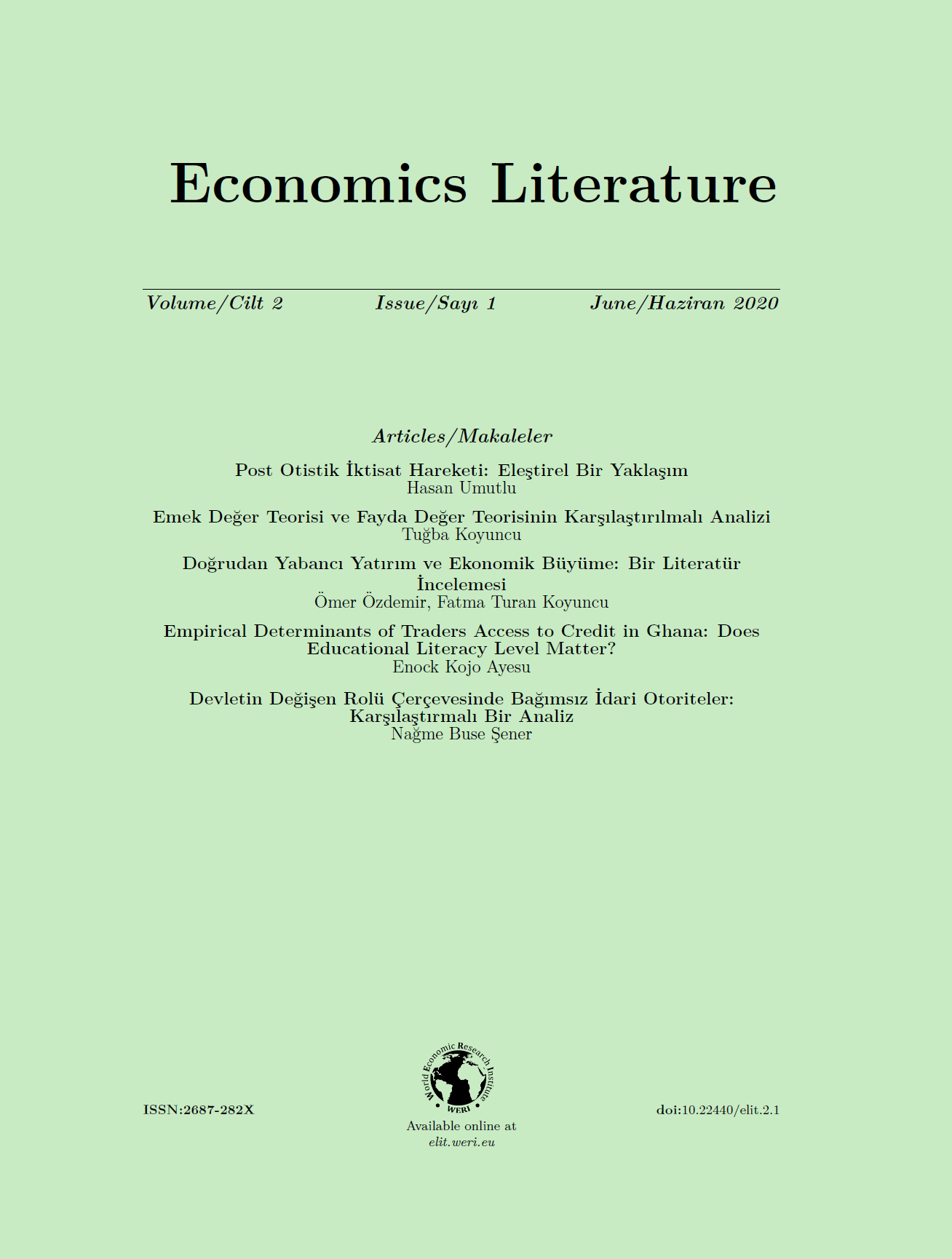 How to Cite
Şener, N. (2020). Independent Administrative Authorities in the Framework of the Changing Role of the State: A Comparative Analysis. Economics Literature, 2(1), 71-103. https://doi.org/10.22440/elit.2.1.5
Copyright (c) 2020 Economics Literature
This work is licensed under a Creative Commons Attribution-NonCommercial 4.0 International License.
Economics Literature is an Open Access journal and provides immediate open access to its contents. The Journal aims to promote the development of global Open Access to scientific information and research. The Publisher provides copyrights of all online published papers (except where otherwise noted) for free use of readers, scientists, and institutions (such as link to the content or permission for its download, distribution, printing, copying, and reproduction in any medium, except change of contents and for commercial use), under the terms of Creative Commons Attribution-NonCommercial (CC BY-NC) License, provided the original work is cited. Written permission is required from the publisher for use of its contents for commercial purposes.