Foreign Direct Investment and Economic Growth: A Literature Review
Keywords:
Globalization, Foreign Direct Investments, Economic Growth, Multinational Corporation
Abstract
The borders between the countries have started to evaporate and international capital movements have increased significantly with globalization. Many developing countries have started to open their markets to international capitals and to apply reforms oriented to the removal of barriers for foreign investment in parallel to these developments. Foreign direct investments, which are alternative resources for the countries with undercapitalization and technological incompetence, have become the center of attention. Undoubtedly foreign direct investments have both positive and negative effects on the economy after they come to a country. For this reason, the main goal of the present study is to analyze studies and models about how these foreign direct investments made to countries affect economic growth. Even though the prevailing view is foreign direct investments would contribute to the economic growth in parallel to the increase of capital and productivity, this situation would vary in accordance with the economic structure and the quality of the investments. As a result of this research, it has been concluded that the quality of investment is the most important factor in the fact that foreign direct investments affect economic growth positively or negatively.
Downloads
Download data is not yet available.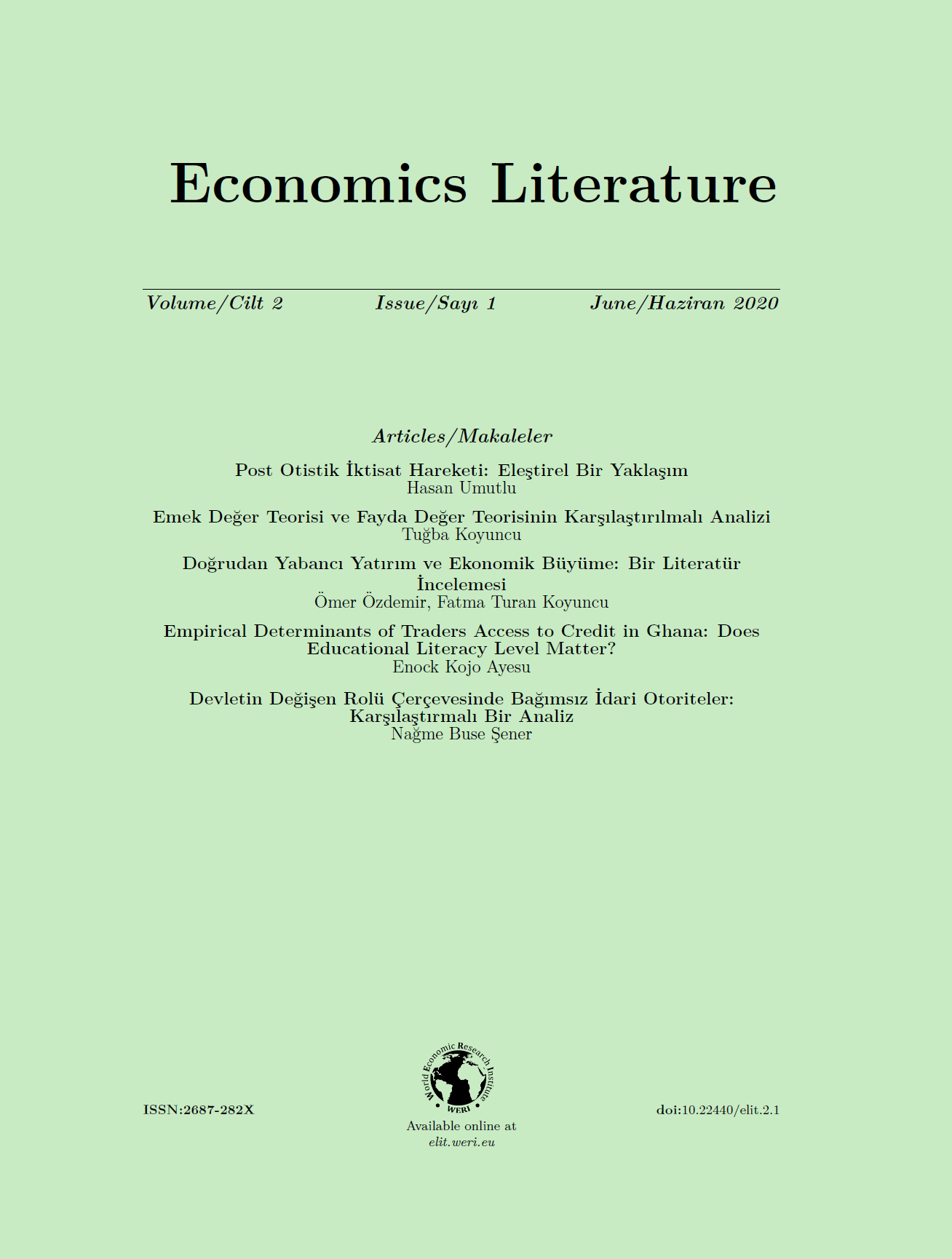 How to Cite
Özdemir, Ömer, & Turan Koyuncu, F. (2020). Foreign Direct Investment and Economic Growth: A Literature Review. Economics Literature, 2(1), 34-56. Retrieved from https://elit.weri.eu/index.php/elit/article/view/31
Copyright (c) 2020 Economics Literature
This work is licensed under a Creative Commons Attribution-NonCommercial 4.0 International License.
Economics Literature is an Open Access journal and provides immediate open access to its contents. The Journal aims to promote the development of global Open Access to scientific information and research. The Publisher provides copyrights of all online published papers (except where otherwise noted) for free use of readers, scientists, and institutions (such as link to the content or permission for its download, distribution, printing, copying, and reproduction in any medium, except change of contents and for commercial use), under the terms of Creative Commons Attribution-NonCommercial (CC BY-NC) License, provided the original work is cited. Written permission is required from the publisher for use of its contents for commercial purposes.