The Effect of Exchange Rate Fluctuation on the Performance of Manufacturing Firms: An Empirical Evidence from Ghana
Emmanuel Buabeng

Kwame Nkrumah University of Science and Technology

Enock Kojo Ayesu

Kwame Nkrumah University of Science and Technology

Opoku Adabor

Kwame Nkrumah University of Science and Technology
Keywords:
Exchange rate, manufacturing firms' performance, ARDL, Ghana
Abstract
This study examines the effect of exchange rate fluctuations on the performance of manufacturing firms in Ghana for the period 1990 to 2018. The study uses the bounds test approach to cointegration within the framework of autoregressive distributed lags model as the estimation strategy. The results reveal that exchange rate and monetary policy rate has a negative and significant relationship with manufacturing firm performance. It was also found that inflation, trade openness, and investment have significant positive relation with manufacturing firm performance in Ghana. Based on the negative and significant relationship with exchange rate and manufacturing firm performance, it is recommended that government and private partnership should ensure effective management of the exchange rate fluctuation and also encourage manufacturing firms to patronize locally made capital goods for their production in the face of a depreciating exchange rate. Further, the study recommends that monetary authorities should reduce interest rate to increase investment by firms. This will enhance manufacturing firms' performance.
Downloads
Download data is not yet available.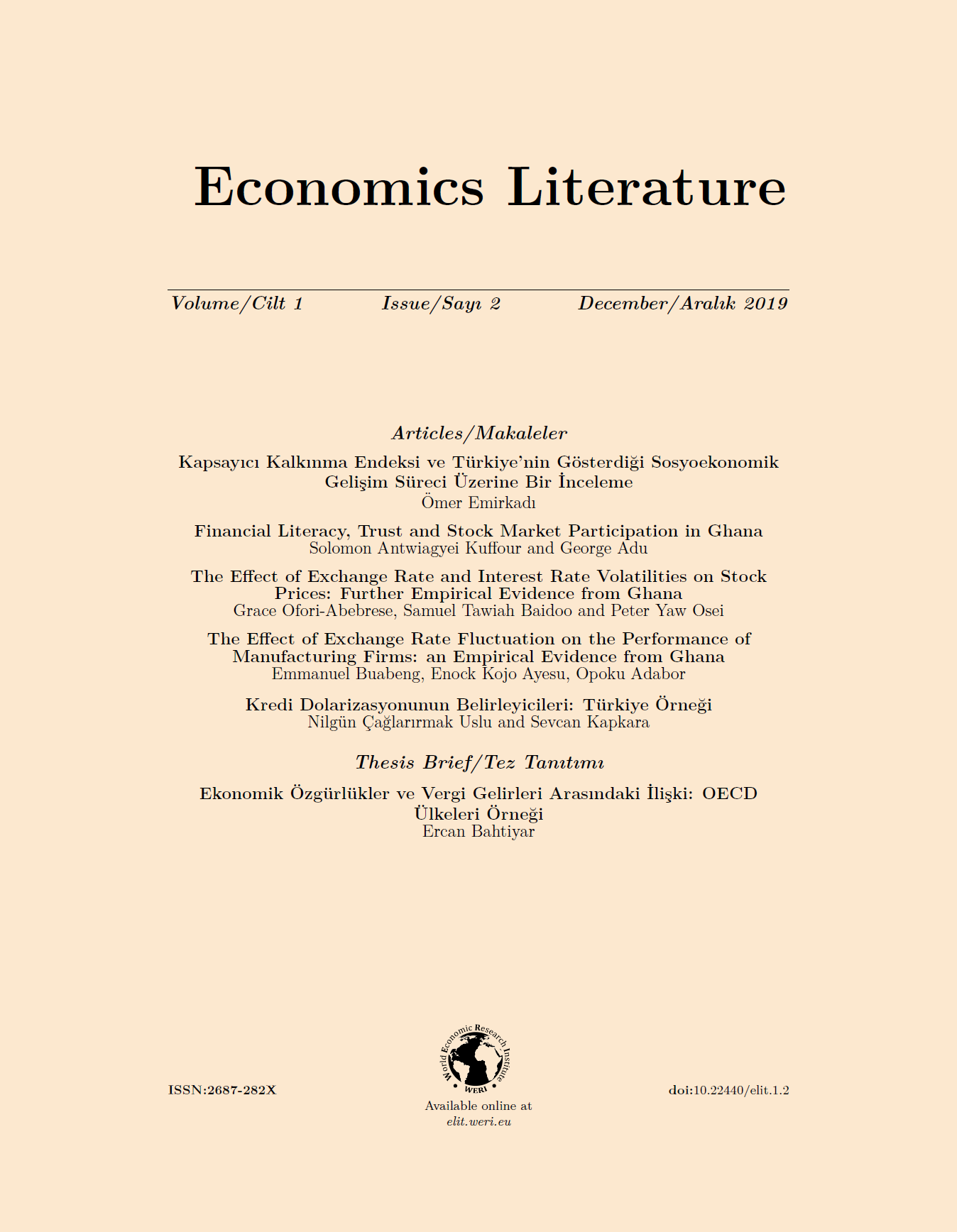 How to Cite
Buabeng, E., Ayesu, E., & Adabor, O. (2019). The Effect of Exchange Rate Fluctuation on the Performance of Manufacturing Firms: An Empirical Evidence from Ghana. Economics Literature, 1(2), 133-147. https://doi.org/10.22440/elit.1.2.4
Copyright (c) 2019 Economics Literature
This work is licensed under a Creative Commons Attribution-NonCommercial 4.0 International License.
Economics Literature is an Open Access journal and provides immediate open access to its contents. The Journal aims to promote the development of global Open Access to scientific information and research. The Publisher provides copyrights of all online published papers (except where otherwise noted) for free use of readers, scientists, and institutions (such as link to the content or permission for its download, distribution, printing, copying, and reproduction in any medium, except change of contents and for commercial use), under the terms of Creative Commons Attribution-NonCommercial (CC BY-NC) License, provided the original work is cited. Written permission is required from the publisher for use of its contents for commercial purposes.