Financial Literacy, Trust and Stock Market Participation in Ghana
Solomon Antwiagyei Kuffour

Kwame Nkrumah University of Science and Technology

George Adu

Kwame Nkrumah University of Science and Technology
Keywords:
Financial Literacy, Trust, Direct Share ownership, Stock Market participation
Abstract
Financial markets and products have increasingly become complicated as a result of the influx of financial products hence consumers are now required to make complex financial decisions about their day to day investment decisions, portfolio choice and future financial planning. To make an informed decision, a considerable level of financial literacy and trust is required. Globally, households are encouraged to take a more active approach to personal finance. However, the success depends largely on the level of financial literacy of the individual. Again, global evidence of stock market non-participation puzzle has warranted several studies to ascertain what explains the phenomenon.  For this reason, this paper examines the impact of financial literacy and trust on stock market participation and also ascertains if there exists any gender gap in financial literacy and share ownership. Using survey data on a sample of 398 respondents, there was an evidence of low financial literacy levels. The probit regression results show that less financially literate investors are significantly less likely to invest in stocks if socio-demographic characteristics and risk attitudes are accounted for. However, the individual's subjective level of trust in the stock market has no explanatory effect on the individual's decision to invest in stocks. Hence, financial literacy partly explains the non-participation puzzle in financial literacy and stock market participation. It is also found that financial literacy is affected by one's level of education and access to financial information, hence financial literacy programs should be given much attention especially through the use of electronic media.
Downloads
Download data is not yet available.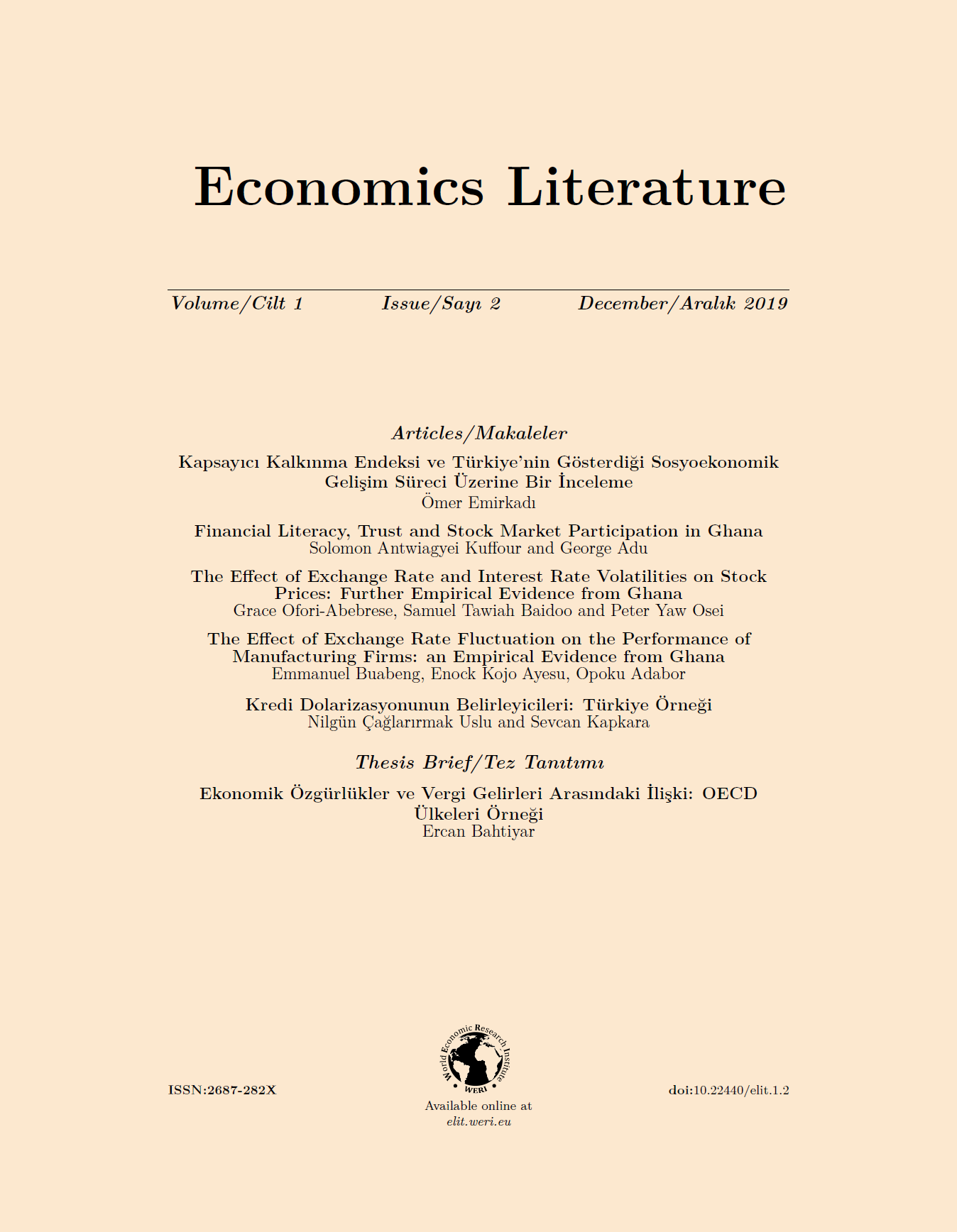 How to Cite
Kuffour, S., & Adu, G. (2019). Financial Literacy, Trust and Stock Market Participation in Ghana. Economics Literature, 1(2), 101-116. Retrieved from https://elit.weri.eu/index.php/elit/article/view/13
Copyright (c) 2019 Economics Literature
This work is licensed under a Creative Commons Attribution-NonCommercial 4.0 International License.
Economics Literature is an Open Access journal and provides immediate open access to its contents. The Journal aims to promote the development of global Open Access to scientific information and research. The Publisher provides copyrights of all online published papers (except where otherwise noted) for free use of readers, scientists, and institutions (such as link to the content or permission for its download, distribution, printing, copying, and reproduction in any medium, except change of contents and for commercial use), under the terms of Creative Commons Attribution-NonCommercial (CC BY-NC) License, provided the original work is cited. Written permission is required from the publisher for use of its contents for commercial purposes.