Empirical Determinants of Traders Access to Credit in Ghana: Does Literacy Level Matter?
Keywords:
Access to credit; Traders; literacy level; Probit regression; Ghana
Abstract
Credit is highly required in different parts of the world, mainly as capital requirement for business start-up and expansion. The present study examines the determinants of traders access to credit in Ghana. The study relies mainly on primary data and applies the probit estimation technique to the dataset. The study finds that source of income, collateral security, household size and education is significant in determining traders' access to credit. Based on these findings, it is recommended that financial institutions should encourage traders to upgrade their educational level on account and record keeping, since this will enhance their basic knowledge not only on their trading activities but also on financial transactions.
Downloads
Download data is not yet available.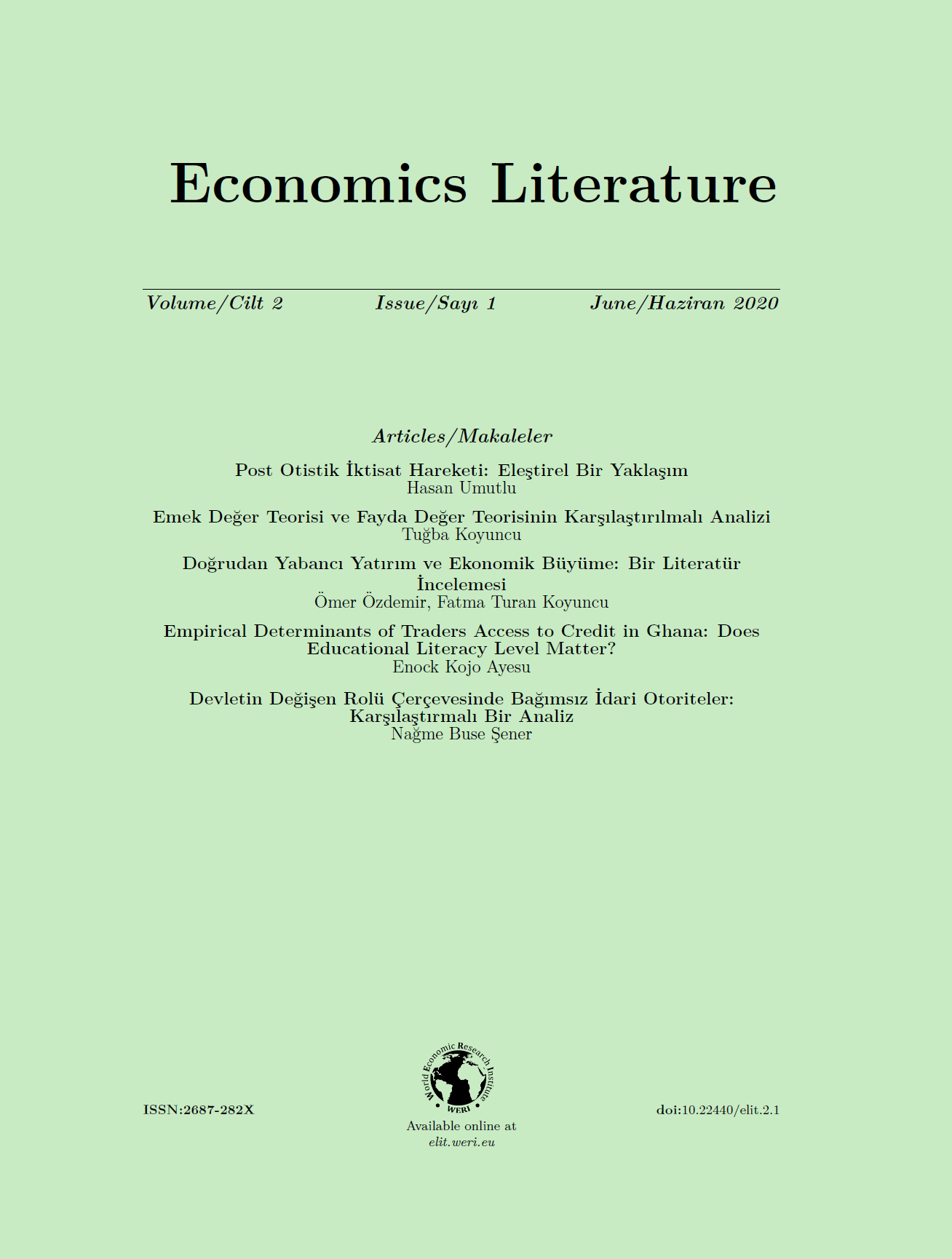 How to Cite
Ayesu, E. (2020). Empirical Determinants of Traders Access to Credit in Ghana: Does Literacy Level Matter?. Economics Literature, 2(1), 57-70. https://doi.org/10.22440/elit.2.1.4
Copyright (c) 2020 Economics Literature
This work is licensed under a Creative Commons Attribution-NonCommercial 4.0 International License.
Economics Literature is an Open Access journal and provides immediate open access to its contents. The Journal aims to promote the development of global Open Access to scientific information and research. The Publisher provides copyrights of all online published papers (except where otherwise noted) for free use of readers, scientists, and institutions (such as link to the content or permission for its download, distribution, printing, copying, and reproduction in any medium, except change of contents and for commercial use), under the terms of Creative Commons Attribution-NonCommercial (CC BY-NC) License, provided the original work is cited. Written permission is required from the publisher for use of its contents for commercial purposes.