The Relationship between Financialization and Price Stability in the Turkish Economy
Abstract
Ekonomide finans sektörünün payının diğer sektörlere nazaran giderek arttığını ifade etmek üzere kullanılan finansallaşma kavramı, 1970'li yılların ortasında başlayan bir süreç olsa da 1980'li yıllarda sermayenin uluslararası nitelik kazanmasıyla birlikte daha da hız kazanmıştır. 1980 sonrası dünya ekonomisinde neo-liberalizmin egemen hale gelmesi ile ekonomiler giderek küreselleşmiş ve finansal piyasalar öne çıkmaya başlamıştır. 20. yüzyılın sonlarından itibaren teknolojik gelişmeler sonucu finansal ürünlerin çeşitliliğinin artması, finansal yatırım ve gelirlerdeki artış, dış ticaret hacminde görülen genişleme ve uluslararası sermayenin dolaşımının hızlanması, finansallaşma sürecinin hız kazanmasında etkili olmuştur. Türkiye ekonomisinde de yaşanan liberalizasyon ile finansallaşma yaşanmıştır. Bu çalışmada, Türkiye ekonomisinin dışa açılma süreci sonrasında yaşadığı finansallaşma süreci ve bu sürecin fiyat istikrarı ile ilişkisi ele alınmıştır.
Downloads
Download data is not yet available.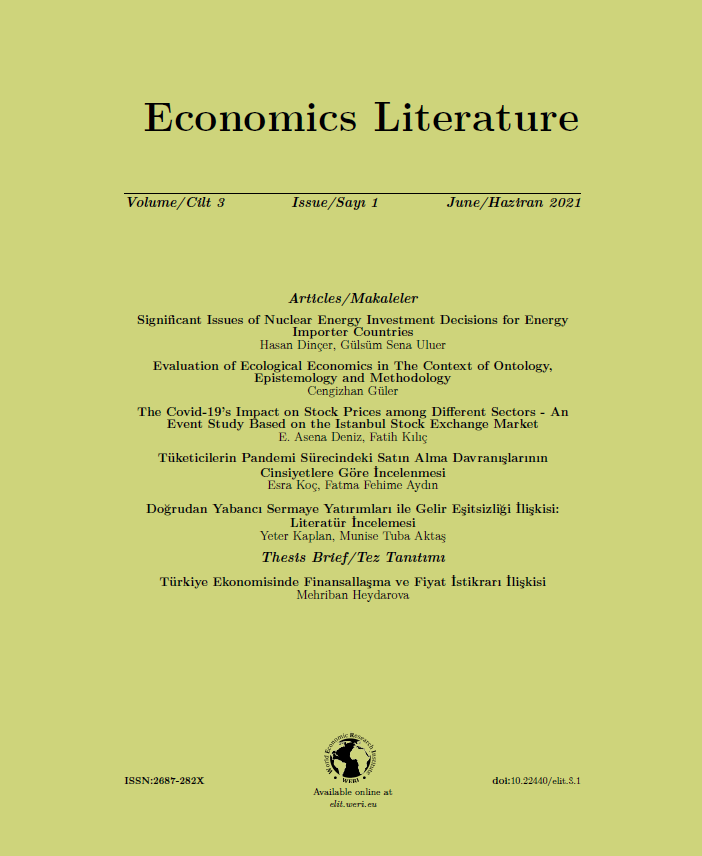 How to Cite
Heydarova, M. (2021). The Relationship between Financialization and Price Stability in the Turkish Economy. Economics Literature, 3(1), 65-66. Retrieved from https://elit.weri.eu/index.php/elit/article/view/54
Section
Briefs of Dissertations
Copyright (c) 2021 Economics Literature
This work is licensed under a Creative Commons Attribution-NonCommercial 4.0 International License.
Economics Literature is an Open Access journal and provides immediate open access to its contents. The Journal aims to promote the development of global Open Access to scientific information and research. The Publisher provides copyrights of all online published papers (except where otherwise noted) for free use of readers, scientists, and institutions (such as link to the content or permission for its download, distribution, printing, copying, and reproduction in any medium, except change of contents and for commercial use), under the terms of Creative Commons Attribution-NonCommercial (CC BY-NC) License, provided the original work is cited. Written permission is required from the publisher for use of its contents for commercial purposes.