Türkiye Ekonomisinde Krizler, Ekonomik Kırılganlık ve Yapısal Reformlar
Keywords:
Economic Fragility, The Fragile Five, Economic Crises, Structural Reforms
Abstract
Today, globalization has gained a different dimension, and with the increase of financial liberalization, internal economic turmoil has become to affect all economies regardless of geographical boundaries. This situation causes economies to remain vulnerable to external shocks and to be dragged into crises. The fact that economies were dragged into crisis due to internal and external shocks and could not recover in a short time brought the concept of fragility to the agenda. This study highlights the relationship between the crisis and the fragility, examines the Turkish economy's crisis and its fragile structure that led to the crisis, then assesses the structural reforms needed to improve its resilience.
Downloads
Download data is not yet available.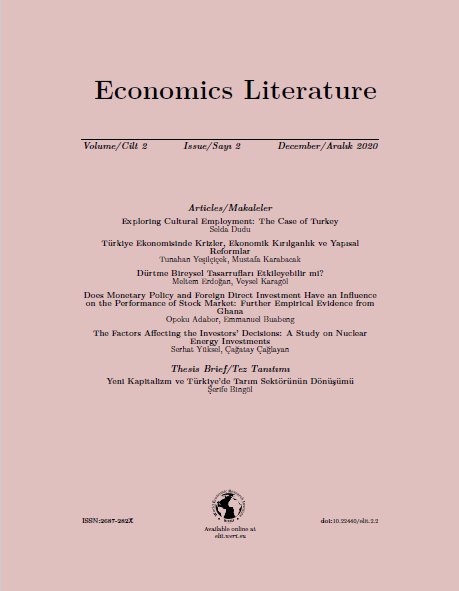 How to Cite
Yeşilçiçek, T., & Karabacak, M. (2020). Türkiye Ekonomisinde Krizler, Ekonomik Kırılganlık ve Yapısal Reformlar. Economics Literature, 2(2), 122-145. https://doi.org/10.22440/elit.2.2.2
Copyright (c) 2020 Economics Literature
This work is licensed under a Creative Commons Attribution-NonCommercial 4.0 International License.
Economics Literature is an Open Access journal and provides immediate open access to its contents. The Journal aims to promote the development of global Open Access to scientific information and research. The Publisher provides copyrights of all online published papers (except where otherwise noted) for free use of readers, scientists, and institutions (such as link to the content or permission for its download, distribution, printing, copying, and reproduction in any medium, except change of contents and for commercial use), under the terms of Creative Commons Attribution-NonCommercial (CC BY-NC) License, provided the original work is cited. Written permission is required from the publisher for use of its contents for commercial purposes.