The Factors Affecting the Investors' Decisions: A Study on Nuclear Energy Investments
Serhat Yüksel

İstanbul Medipol University

Çağatay Çağlayan

İstanbul Medipol University
Keywords:
Nuclear Energy Investment, Behavioral Economics, Fuzzy DEMATEL
Abstract
The aim of this study is to evaluate the indicators affecting the decision of investors in nuclear energy sector within the scope of behavioral economics. There are two different stages in the analysis process in this paper. First, after a detailed literature review, six different behavioral economics biases are selected as the criteria. Secondly, these factors are weighted for the nuclear energy investors. For this purpose, fuzzy DEMATEL methodology is used. The findings indicate that uncertainty avoidance and overconfidence bias are the most essential factors affecting the decision of investors. Similarly, the mental accounting bias and regret avoidance also have important impacts for this situation. However, loss aversion bias and lack of self-control have the lowest weights for the nuclear energy investors. Additionally, with respect to the impact relation map, it is concluded that uncertainty avoidance is the most influencing issue whereas overconfidence bias is identified as the most influenced factor. Our results suggest that that strategies should be implemented to decrease the anxiety of the nuclear energy investments. For this purpose, governments should take some actions to minimize the uncertainty in the market. For instance, providing loans with low interest rate can minimize interest rate risk. This will probably decrease the anxiety of the nuclear energy investors.
Downloads
Download data is not yet available.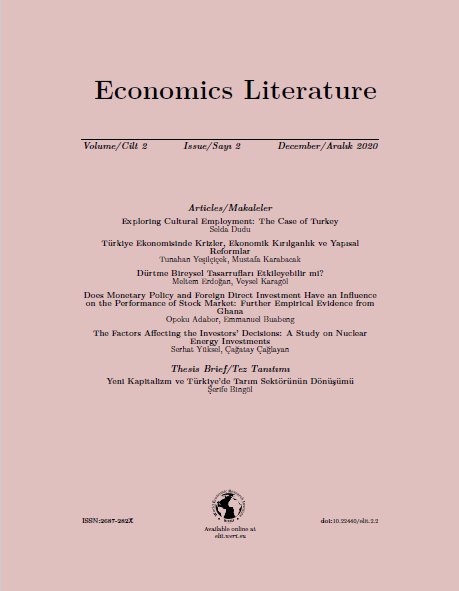 How to Cite
Yüksel, S., & Çağlayan, Çağatay. (2020). The Factors Affecting the Investors' Decisions: A Study on Nuclear Energy Investments. Economics Literature, 2(2), 177-185. https://doi.org/10.22440/elit.2.2.5
Copyright (c) 2020 Economics Literature
This work is licensed under a Creative Commons Attribution-NonCommercial 4.0 International License.
Economics Literature is an Open Access journal and provides immediate open access to its contents. The Journal aims to promote the development of global Open Access to scientific information and research. The Publisher provides copyrights of all online published papers (except where otherwise noted) for free use of readers, scientists, and institutions (such as link to the content or permission for its download, distribution, printing, copying, and reproduction in any medium, except change of contents and for commercial use), under the terms of Creative Commons Attribution-NonCommercial (CC BY-NC) License, provided the original work is cited. Written permission is required from the publisher for use of its contents for commercial purposes.