Relationship Between Foreign Direct Investment and Income Inequality: Literature Review
Yeter Kaplan

Anadolu Üniversitesi

Munise Tuba Aktaş
Abstract
In the literature, it is possible to come across studies examining the effect of foreign direct investment (FDI) on income inequality. In this study, a literature review has been conducted in order to better consideration the effect of FDI on income inequality. In this context, the main purpose of the study is to reveal the effect of FDI on income inequality within the framework of theoretical approaches based on empirical study findings. In addition, the study aims to contribute to the debates on the effects of foreign direct investment on income inequality. The findings of the studies on the relationship between FDI and income inequality shows differences. In some of the studies examined, there are findings supporting that FDI increases income and wage inequality. On the other hand, some other studies have found evidences that FDI reduces income inequality. Otherwise, there are also studies showing that FDI does not have a significant effect on income inequality.
Downloads
Download data is not yet available.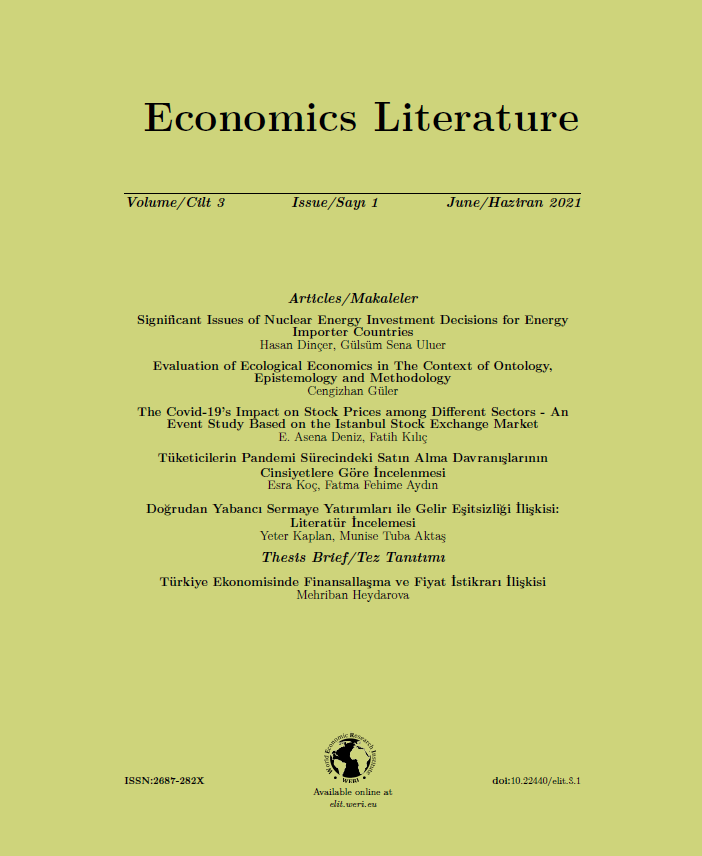 How to Cite
Kaplan, Y., & Aktaş, M. (2021). Relationship Between Foreign Direct Investment and Income Inequality: Literature Review. Economics Literature, 3(1), 46-64. Retrieved from https://elit.weri.eu/index.php/elit/article/view/37
Copyright (c) 2021 Economics Literature
This work is licensed under a Creative Commons Attribution-NonCommercial 4.0 International License.
Economics Literature is an Open Access journal and provides immediate open access to its contents. The Journal aims to promote the development of global Open Access to scientific information and research. The Publisher provides copyrights of all online published papers (except where otherwise noted) for free use of readers, scientists, and institutions (such as link to the content or permission for its download, distribution, printing, copying, and reproduction in any medium, except change of contents and for commercial use), under the terms of Creative Commons Attribution-NonCommercial (CC BY-NC) License, provided the original work is cited. Written permission is required from the publisher for use of its contents for commercial purposes.